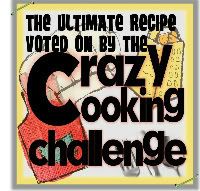 Last week we completed the fifth month of the
CRAZY COOKING CHALLENGE
; all of the Chicken Noodle Soup recipes looked amazing. I know I am still enjoying the recipe we made
(we froze the extra's for later and I will be enjoying some of it today for lunch).
We had 63 bloggers search and blog about CHICKEN NOODLE SOUP and the variety of recipes that showed up were awesome. If you missed the linky party, check it out
CRAZY COOKING CHALLENGE - Chicken Noodle Soup
. The Ultimate recipe this month is being picked from the linky that received the most traffic/most clicks. We had over 26,000 views of this one linky party! I think thats fantastic, and the recipe that received the most clicks got 222 hits! WOW!
If you want more details about this challenge or joining this challenge for next month read all about it
here
. We will be baking and blogging about the ULTIMATE Chocolate Cake recipe. Please come join us!
Now, let's announce the January WINNER of the CRAZY COOKING CHALLENGE.
This title "The Ultimate FUDGE Recipe" is given to:
The Ultimate CHICKEN NOODLE SOUP Recipe
I had never even heard of Thai Chicken Noodle Soup and so many bloggers choose that style of recipe. I must be missing out and will need to try this winning recipe sooner rather then later. The picture looks incredible and it looks like many others liked it too I am sure that's why it's the WINNER this month! Thank you,
Cheese Curd in Paradise
for finding this recipe over at
Bev Cooks
. And we'd like to thank you BOTH for sharing your recipe with the CRAZY COOKING CHALLENGE. You both deserve a big round of applause and you BOTH are entitled to the ULTIMATE CRAZY COOKING CHALLENGE BUTTON, please feel free to grab it below and post it proudly on your blog.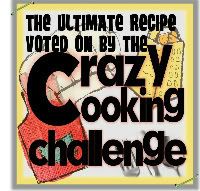 Also a
BIG THANK YOU
to the bloggers who participated in the challenge!