12 DAYS OF CHRITMAS GOODIES
Rich Chocolate Brownies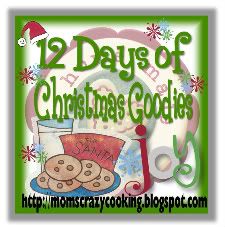 Brownie Recipe number ..... 5... 6... 10... 14... I've lost count, but I am not complaining at ALL. I know one day we will find that ONE, that ONLY brownie recipe we will make for all eternity (haha, until someone else shares another NEW recipe, that I just MUST try). But for now my son and I are having so much fun trying (and eating) all these delicious brownie recipes.
This one we LOVE because it's from a box (I know, I know), but it's so easy and it tastes so GOOD! I am telling you, making brownies from scratch is not easy, to thick, to cakey, to mushy, to dry and never moist enough. From a box is OH so perfect. This is a box recipe, twisted into something better.
Rich Chocolate Brownies
recipe found at
Sweet Treats & More
double the number of eggs called for on box
Milk or Heavy Cream in place of water
Oil (whatever it says on the box)
2 cups semi sweet chocolate chips
Powdered Sugar (for sprinkling)
Preheat oven to 325.
Mix all ingredients together. Mixture will be thick.
Grease a 9 x 13 in pan (or use parchment paper and cooking spray). Bake for about 35 - 40 minutes.
Let brownies cool in pan,

sprinkle with some powdered sugar over the top just before cutting them. If you used parchment paper (which I love), just pull the whole batch out of the pan, no scraping the bottom of the pan) and try cutting w

ith a wet sharp knife. Perfect brownies every time.